Our Team
Dr Nadine Gruenthal BSc BVMS MVS
Veterinarian/Practice owner
Nadine graduated from Murdoch University Veterinary School in 2003. She has worked in several prominent small animal practices in Perth. She has gained significant experience in both medicine and surgery. Naidne has a passion for small animal reproduction (because she loves puppies and kittens!).
Nadine's achievements include:
Masters in Small Animal Practice – Murdoch University, 2010
PennHip radiology accreditation completed – United States, 2006
Camelot Sires semen freezing course – Adelaide 2007
Transcervical Insemination and Artificial Reproduction Course – Melbourne, 2008
AQIS accreditation
Nadine loves dogs and cats, but still has a soft spot for all creatures great and small. She has two dogs called Tony and Rosie who often come to work with Nadine. She also has 2 cats – Rocket who is a gorgeous ginger rescue cat and Shadow who is a big stunning Maine Coon.
---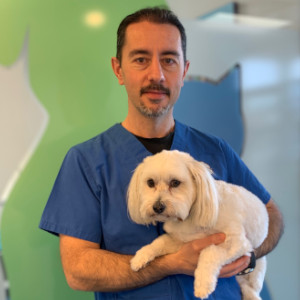 Dr Maziyar Mahouti BSc BVMS
Veterinarian
Dr Maz started his veterinary career as a mixed animal practitioner and then focusing on dairy cattle veterinarian. After immigrating to Australia his love for animals and passion for the veterinary profession motivated him to gain Australian qualification from Murdoch University, this time focusing on small animals. Dr Maz loves being a small animal vet now. He is very keen to advance his skills and it always attending new courses and conferences so that he can offer a high standard of care.
He is a fun-loving father of two children and a fur parent to a gorgeous cat, many fish. Dr Maz has promised his children that they will soon be welcoming a puppy to their family too!
Dr Maz has a special interest in surgery, dermatology and small animal reproduction.
---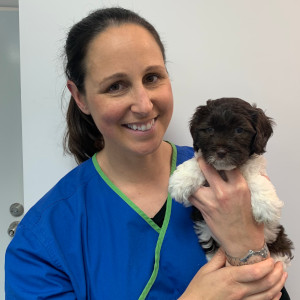 Dr Candice Gelmi BSc BVMS MANZCVS
Veterinarian
Candice graduated from Murdoch University in 2009 and spent her first two years of practice as a mixed practice veterinarian in mid North Queensland. She then returned to Perth and has worked in numerous small animal clinics since. Her passion for surgery led her to complete membership examinations with the Australian and New Zealand College of Veterinary Scientists in Small Animal Surgery. This was followed by two surgical internships at both WAVES and The Animal Hospital, Murdoch. We are really lucky to have a team member with the experience and knowledge that Candice has.
In her spare time, Candice enjoys spending time with her family and beloved rescue cat 'Hugo'.
---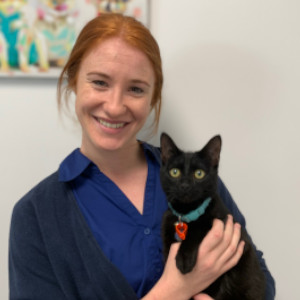 Dr Leah Keating BSc DVM
Veterinarian
Leah graduated from Murdoch University in 2019. She started her career working in emergency practice where she gained exposure to many interesting medical and surgical cases. She enjoys all aspects of small animal practice, however her special interests lie with animal behaviour and feline medicine. In her spare time Leah enjoys travelling, running, playing football and spending time with family and friends.
---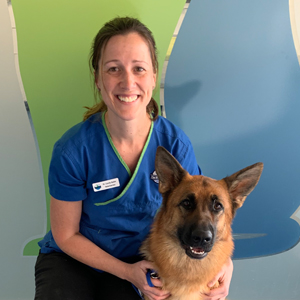 Dr Candice Baker BSc BVMS MANZCVS (ECC) – Currently on maternity leave
Veterinarian
I graduated in 2010 from Murdoch University and spent the first three years of my career worked in mixed practice in the wheatbelt. I always thought that I would end up in equine practice for my career, but my background involved dog breeding, so it was a toss of a coin as to which species I would gravitate towards. Not surprisingly, I ended up going with my canine companions as a focus. At the end of 2013 I began working in Emergency at WAVES, in 2017 I completed my membership exams with the Australian and New Zealand College of Vet scientists in Emergency and Critical Care medicine. Emergency medicine has taken a lot of my time, however, in 2018 I decided to take a leap back into general practice at the well respect clinic – The Pet Practice. I am enjoying working with breeders and beautiful families of their beloved pets alike. I get to practice my knowledge in emergency and neonatal care and my newer found interests in radiology. I am hoping to complete my membership exams in small animal radiology in 2020.
In my spare time I enjoy camping and travelling with my husband and son and in the other spare time I devote energy towards ensuring the health and welfare of German Shepherd Dogs in Australia are attended to. Sometimes, I even like to go to a dog show!
---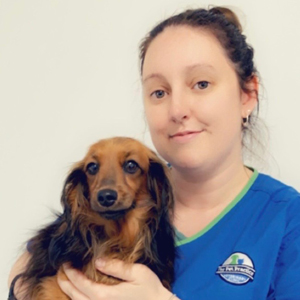 Candice
Veterinary Nurse
Candice has been working in the veterinary industry since 2009. She has worked at several busy veterinary hospitals in Perth and gained a lot of experience as a nurse. She loves assisting with surgery and caring for our hospitalised patients. Candice is always cuddling and caring for the pets in the clinic. Candice has an extra special soft spot for brachycephalic breeds (Bulldogs, French bulldogs and Pugs) as she grew up with them as a family pets. She now has taken a particular interest in veterinary nursing for these unique dogs. When Candice isn't at work she loves spending time with her nieces and walking her three dogs – Bounty, Harley and Blitzy.
---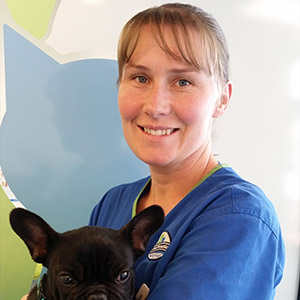 Alison
Veterinary Nurse
Alison has been a veterinary nurse since 1997. So she has a vast amount of experience in nursing including medicine, surgery and reproduction. Alison has a passion for neonatal care and is highly skilled in raising new born puppies and caring for pregnant and lactating dogs. She is also very interested in canine reproduction and has worked in that field for many years. When Alison is not veterinary nursing, she spends her time being a mum to her four children. She has a menagerie of pets including five dogs, chickens, two goats and a horse.
---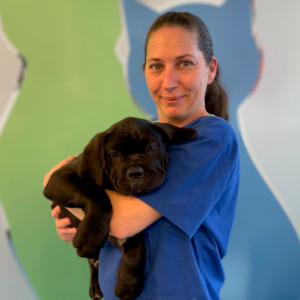 Juanita
Veterinary Nurse
Juanita has been a vet nurse since 2010. Her passion and care for animals is evident the moment you meet her. She loves to give all of our patients cuddles and love and endeavours to make sure that their visit to the vet is as stress free as possible. Juanita loves all aspects of vet nurses but is particularly interested in neonatal care and French Bulldogs. In her spare time Juanita is busy raising her two sons and her fur babies. She has a Frenchie called Lilo (who is the love of her life), a Staffy cross caller Jagger, two rescue cats called Pookie and Fluffy and a snake called Stimpy!
---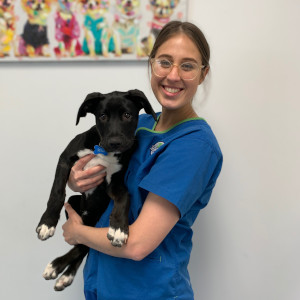 Monique
Veterinary Nurse
Monique graduated from Murdoch University in 2019 with a degree in Animal Health Science. During her studies she travelled to places like Indonesia and South Africa to work in animal rescue and rehabilitation clinics and it was during these experiences that she fell in love with all things nursing. She then began her Vet Nursing studies in early 2020 and is very eager to learn all she can. Monique is building her skills every day and is excited to embark on a very rewarding career taking care of all your furry friends. Monique has one very loved (or spoiled) German Sheppard named Hunter.