Our Team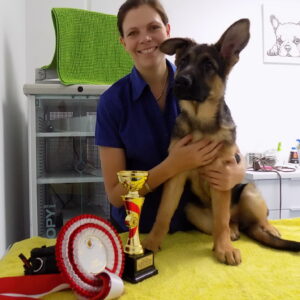 Dr Nadine Gruenthal BSc BVMS MVS
Veterinarian/Practice owner
Nadine graduated from Murdoch University Veterinary School in 2003. She has worked in several prominent small animal practices in Perth. She has gained significant experience in both medicine and surgery. Naidne has a passion for small animal reproduction (because she loves puppies and kittens!).
Nadine's achievements include:
Masters in Small Animal Practice – Murdoch University, 2010
PennHip radiology accreditation completed – United States, 2006
Camelot Sires semen freezing course – Adelaide 2007
Transcervical Insemination and Artificial Reproduction Course – Melbourne, 2008
AQIS accreditation
Nadine loves dogs, but still has a soft spot for all creatures great and small. She has two dogs called Tony and Meadow. Her cat is called Sushi. Her chickens are called Elizabeth, Penelope and Rapunzel. And her fish is called Blue.
Dr Jodi Maher BSc BVMS
Veterinarian
Jodi Graduated from Murdoch University in 2013. She has worked in several veterinary clinics including a vet clinic on Kangaroo Island. She gained significant experience in both surgery and medicine. Jodi has an Irish setter called Darci, and English Setter called Jasper and a Kelpi cross called Jack. Jodi describes her dogs as 'café dogs' as they love spending time at cafes in Fremantle and Farmers Markets.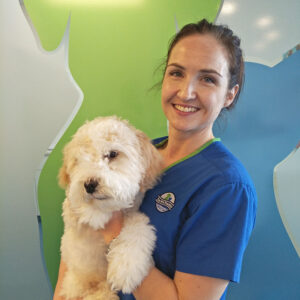 Dr Alex Gibbs
Veterinarian
Alex graduated Murdoch University Veterinary School in 2016. She has a passion for travelling and during university spent time in India volunteering at a spey and neuter clinic to help control stray dog populations. Having worked in busy clinics in the south west she has been exposed to many interesting emergency and surgical cases but has special interest in small animal medicine and dermatology. In her spare time Alex likes spending time camping down south, exercising, catching up with family and friends and looking after her two spoilt cats, Chase and Stitch.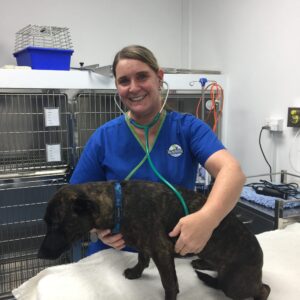 Kylie Beales
Veterinary nurse
Kylie has been a registered nurse for over 25 years. She has a tremendous amount of experience caring for animals. She loves all aspects of veterinary nursing especially surgery, geriatric care and feline medicine. Kylie is a caring and compassionate member of our team and we are so lucky to have her working here. Kylie has a boisterous Golden Retriever called Poppy.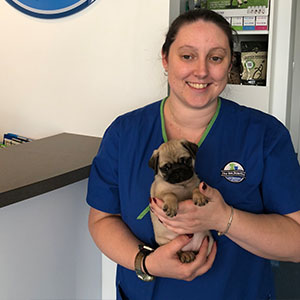 Candice Clark
Veterinary Nurse
Candice has been working in the veterinary industry since 2009. She has worked at several busy veterinary hospitals in Perth and gained a lot of experience as a nurse. She loves assisting with surgery and caring for our hospitalised patients. Candice is always cuddling and caring for the pets in the clinic. Candice has an extra special soft spot for brachycephalic breeds (Bulldogs, French bulldogs and Pugs) as she grew up with them as a family pets. She now has taken a particular interest in veterinary nursing for these unique dogs. When Candice isn't at work she loves spending time with her nieces and walking her three dogs – Bounty, Harley and Blitzy.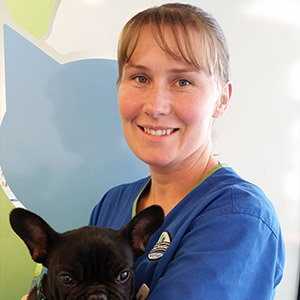 Alison Rimbas
Veterinary Nurse
Alison has been a veterinary nurse since 1997. So she has a vast amount of experience in nursing including medicine, surgery and reproduction. Alison has a passion for neonatal care and is highly skilled in raising new born puppies and caring for pregnant and lactating dogs. She is also very interested in canine reproduction and has worked in that field for many years. When Alison is not veterinary nursing, she spends her time being a mum to her four children. She has a menagerie of pets including five dogs, chickens, two goats and a horse.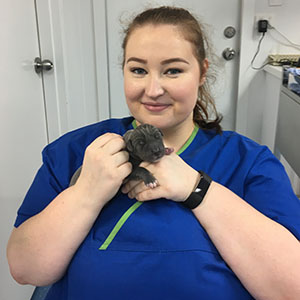 Felicity Searle
Veterinary Nurse
Felicity, or Flick as we call her at work, has been a veterinary nurse since 2012. Flick has always had a love for animals and an interest in the veterinary field. Flick grew up with a family who bred horses. This has led to Flick developing a special interest in Reproduction and Breeding work. She loves working at The Pet Practice and assisting our vets in all of our reproduction services. Flick is also currently completing her Honours Thesis in "Efficient Cattle Breeding Methods". When Flick is not at work or studying she loves spending time with her horses and her Boxer, Zaba.